Boarding
Cats and Dogs Welcome!
We offer a variety of kennels to suit your every need. We have a brand new kennel with spacious totally secure runs offering 24 hour access to outdoors. These are large enough for the very largest of breeds.
We have a 1 acre field that is surrounded by 6 ft chain link and privacy fence for each dog to play in and stretch their legs from time to time. Plus an additional 5 acres with a large pond for more extensive play time, also totally fenced.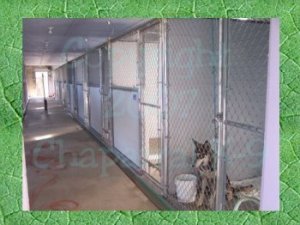 We also have very good accommodations for females in heat, for total security, and for females with a litter of puppies. We are capable of boarding very aggressive dogs that other kennels won't accept. Owners are required to show proof of vaccinations and worming. Cost is $10.00 per day.
Along with boarding we also offer Professionally Certified Dog Training – AKC White German Shepherd Puppies, Adults, and Stud Service – Wolf / German Shepherd puppies, and Stud Service -6 ft Amish made Leather Leashes – Training Collars – All natural Dog Food made by Wysong – NuVet Plus vitamins for dogs and cats.
For more information on the above items you may call us at 1-937-927-5614 between 9 am & 8 pm eastern standard time.