SIZE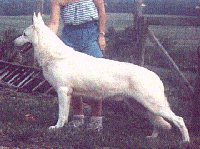 Males 80# to 135#
Females 70# to 125#
COLOR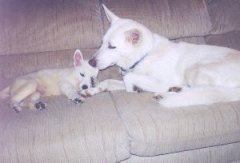 Dark Brown Eyes
Dark Lips
Dark Pads
Dark Nose
TEMPERAMENT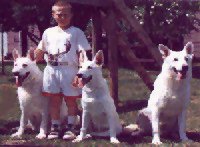 Loving
Affectionate
Loyal
Playful
Intellegent
Trainable
Versatile
Devoted to Family
 PUPPY PACKET
-AKC Registration
– 5 to 7 generation pedigree on both parents
– Written Lifetime Guarantee covering hips, elbows, blindness, deafness, and heart defects pursuant to our contract.
– List of poisonous plants and foods to dogs
– Helpful hints page with lots of training advise
– A list of chemicals in commercial pet foods and their side effects
– A boundary training sheet with more training tips
– The puppy's vaccination and de-worming record
 PRICING
Our White Shepherd puppies prices are $1200.00 – for pet only (spay or neutering recommended at 2 yrs old) and comes with limited AKC registration papers. CALL US – for breeding and full AKC registration
Occasionally we have young adults (6 months to 3 years old) for sale, prices ranging from $750.00 to $2500.00 depending on breeding qualities and amount of training.
 SHIPPING
If you cannot come here to pick up your puppy we will gladly fly him or her to you, the cost of the flight is generally 265.00.   There is a $60.00 deposit required on the flight kennel (which is fully refunded if you send the kennel back within 2 weeks). You can send the kennel back by UPS or the post office. The only other charge is a $25.00 fee for the health certificate (which is required by the airlines).
 STUD SERVICE
At the present time we have three Studs available. Stud fee is $900.00. We do have the facilities to safely and securely house your female if you choose to leave her here for the duration of her heat.
If you choose to fly your female here for breeding we do offer pick-up and delivery service for $35.00, using the Cincinnati Airport.
Further details upon request.
 White German Shepherds Breeders since 1972
OUR WHITE GERMAN SHEPHERD PUPPIES ARE PURE AKC WHITE GERMAN SHEPHERDS AND HAVE HAD NO WOLF ADDED INTO THEIR LINES, even though most German Shepherd breeders in other countries are adding wolf back into the bloodlines to improve on the breed. This information is first hand knowledge from the breeders themselves.
Further details upon request.
 THE END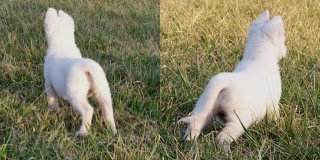 We also have wolf/white shepherd pups available from 25% to 92% wolf.