Testimonials
Jim and Karen,
I want to thank you so much for the wonderful obedience training you provided to our dog, Hendrix. After several mis-haps on the leash and nearly breaking my bones, Hendrix now walks on a leash like a "champ". We can take him for a walk and hold our heads high knowing that we have a very obedient dog and more importantly knowing that he is safe while going for walks. No longer does he attempt to run off after other dogs or animals nor does he bark uncontrollably. Walking isn't the only thing he does well but all the other commands (sit, stay, down, etc…) have made our dog the envy of our neighborhood. After much research we decided to bring Hendrix to you and let you "work your magic". The four hour (one-way) trips were well worth it to have the peace of mind that Hendrix is now safe and obedient. I would highly recommend you to anyone I know that is in need of training for their dog. Again, thank you for all your hard work and keep it up!!!!
Sincerely,
Lisa and Jason
Cuyahoga Falls, OH

Hi Karen,I hope you, Jim and Clint are well! I wanted to thank you for the pointers you gave me on 10/12/10. It might not seem that I retained them, lol , but I did and they are working well! I went to the clinic and Dr. Agerwal was the Doc I got. Yeah! He reduced the medicine that stimulates my pancreas to produce insulin~~~wow I'm more comfortable and the glucose is not crashing as hard as it did the day I came to see you

!
Eli has begun to respond to the change in diet. No more Lamb and Rice from Science Diet, Yeah the Taste of the Wild seems to help him focus his attention. I try to have the presence of mind to tell him "No!" and what I want him to do. Eli went with me to the Oregon District yesterday, to deliver some lip gloss to my friend, Sam ("Chicken Poop" brand from Tractor Supply). We had to go around the block and through the Garden Station park before Eli relaxed to heel on a loose leash.
Eli does the heel on the loose leash in the neighborhood, in the house and in the yard! I believe Eli is very sensitive to sight and sound distractions. I remembered what you said about controlling dogs with your mind so I thought the commands this morning toward Eli and it seemed to get his attention better than yakking at him! Mental whispers, gee, I've not been doing it right!
We may need to come for another lesson when we get the basics down – we're working at it slow but sure – I would like to challenge Eli a little more in the future. I want to take him to SISCA's or the Dog Park's obstacle course to see how he does. I'm sure a couple of times through those and I'll find more stuff I'm out of control with :)!
God Bless and thanks for your help, again!
Love ya all, Cindy


Thanks, KarenWe probably should give her some space for her training; I'm glad she's doing well. We are missing her, and my wife won't run with me! You ought to see the looks I get pushing the wife in the lazyboy down the bike way. There's no electricity on the bike trail, so at least I don't have to carry the HD TV as the extension chord won't even reach the end of the driveway. I find that it's more aerodynamic if Theresa has the lazy boy on full recline, because when she's sitting upright it catches the wind and slows me down. Sheba is a lot less work.
Thanks for the update
Rick B

Hi Karen,
Just a short note to let you know how much we love our new white Shepherd puppy BOLO. You really did a great job in pairing us up with the perfect dog. BOLO has been a real character. He is in creditably energetic and funny. We recently had a photo shoot with him at a local studio and it took 2½ hours to get 5 good photos. He kept pull down the backdrop cloth, running and sliding in the ground cloth, biting the camera and general mayhem. He really had a good time but wore us out. I'm getting our photographer to get you some of the photos we made that day. I think you will be impressed with how much BOLO has grown and how beautiful he is.
I have been remodeling my house here of late and I have employed some wonderful funny and friendly Mexican young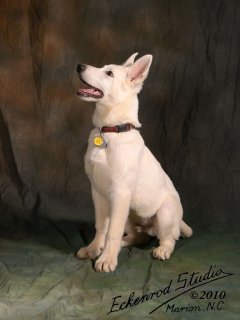 men to help with the labor. With BOLO around I can't hardly get them to work they (especially BOLO) want to play all the time. Lol! Bolo has gotten so mischievous that the Mexican workers are calling him Bolo el Diablo! Lol. It is a term of endearment! Bolo has been a real source of joy and entertainment to everyone who has met him. Shoot, no one calls me by my name Glenn here in town anymore it's always "aren't you Bolo's dad" or "hey it's Bolo's dad etc lol!"
I have a service connected disability from the gulf war and we are trying to locate a service school for Bolo to become a service dog for a seizure patient. We understand that the results of other seizure patients with therapy dogs have been very successful and make life easier for us and our families.
So you and your family should feel good knowing how much more you do for others, you can and do make real differences in peoples lives some of whom you've never even met before – like me and my family.
If ever I buy another Shepherd it will be from you. I can't stress how nice and helpful you've been to us and you puppies are the finest around.
Thanks again!
Glenn (BOLO's dad)

Hi Karen,
I hope all is well with you and Jim.
Chewy is doing great. Our one year anniversary together has come and past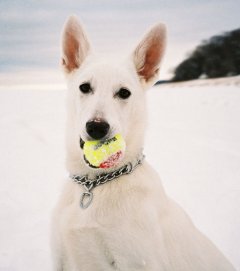 as of October 26th. On Nov. 22nd she will turn 16 months old. She cannot be anymore sweet and gentle, not to mention brilliant. She is truly the kindest soul I have ever met! I am truly blessed to have her. I have included a pic taken of her sometime around late spring/early summer.
I am thinking of getting her a brother, though I am trying to figure out a best time to do so. My initial thought was going into spring next year or early fall. If so, I would be interested in a Male with (if possible) with identical temperament and disposition. What are the chances that Chewy's Mother and Father can mate again? She was born on July 2009 or maybe her father with an equally tempered female?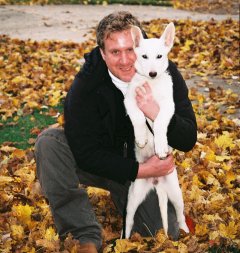 Please let me know if you plan on whelping a litter at or around these times?
One last thing, I was watching the news over this past week and their was this horrendous story about the family that was murdered and the daughter was kidnapped, but found alive. It happened in Mt. Vernon, Ohio and it was the Mt. Vernon police department that handled the investigation. During the broadcast they were showing "search and rescue" footage. In the footage, there were three shepherds, two were black and tans and the third one, centered right in-between the two was a White German Shepherd probably around 2 or 3 years of age. I was wondering if that was one of your dogs? It looked like a Male but also look very much like Chewy. If it was your dog, could that be a cousin of Chewy's?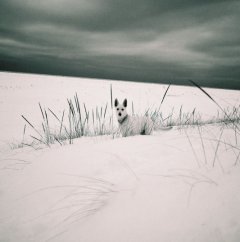 Anyways, I hope all is well and when you get a chance, if you could let me know about next spring/fall that would be great. I would be more then happy to put up a deposit to reserve a Male prior to the Male being whelped.
Kind regards,
dennis

Karen,
Thank you so much for the great information – We are really enjoying the newest member of our family. We have named him "Mayo" (after the 1968 Detroit Tigers Baseball Coach). He is doing really well – Mayo comes to my office everyday and sleeps under my desk and is learning where the best potty places are at home and the office. He is starting to be really playful. We have taught him to fetch sticks- retrieve rolling tennis balls – and as of this morning – he has been out helping my husband track deer. He is going to be a well-rounded dog. We have 12 acres (5 acres of woods, 2 acres of meadow, 1 acre pond, 2 acres in crops and the other 2 acres in yard space) – so he has a lot of space to have a wonderful life. We have always had Labradors. 12 year old Golden Retriever "Chuck", 14 year old Black lab "Sampson" and a 10 year old Chesapeake Bay Retriever "Tressel". My Husband had a German Shepherd growing up – So that is why we traded up for a different breed. We lost our Chessie to a fast growing Tumor last week and had a HUGE Void – Thank you for helping us fill that space with "Mayo". We love him !!! I will keep your email address and send you a picture when he gets bigger and looks like a "dog".
Our Vet says "he looks like a GREAT Puppy – that will be a GREAT Dog" !!!!
Have a great Day –
Thanks –
Joni C I

Hell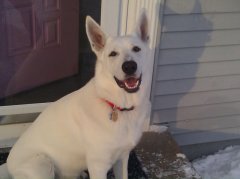 o Karen this is Jay from Nashua NH. Sorry it took so long to get a picture to you of Jack. We can't thank you enough for such an awesome puppy we got from you
last april. He is doing fantasic!! And loved so much. He is extremely smart easy to train and protective of Mom. There will be a day I'll call you and tell you we want a 2nd puppy. Your dogs are everything you said they are. Glad we found you! Keep makin those great wgs's.
Best reguards, Jay

Karen
Here, finally, are some photos of Osa, she is always on the move, plus camera problems, is the reason for the many months of delay in sending them. She will be 3 on 11/5 and currently weighs in @ 100 lbs .
She is still cheeky, very smart ( she opens the lever handle doors in / out through the house) and loveable. Has a good bark and plays endlessly with her brother an Australian Blue Heeler.
Trust you and Osa's Mom/Pop well.
Mike S
Honduras

Jim Karen
Tha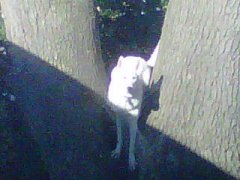 nk you, my puppy named Istah is so great I would have never picked a better dog. You picked for me and so very happy with your choice. Istah not even 1 year old yet is so gentle with Grandma age 85 years old, she loves to play on Grandmas bed. Istah, Indian meaning snow because all white. I can't express my thanks for breeding a dog like her, truly wonderful! I am so happy with her thank you. Sending a few pictures of her as she has grown. The best thing about you and husband I can call you anytime for help on training Istah.
Yours truely, Mark T and Istah

Hi,
My name is Mandie H. Chad, my husband and I adopted one of your puppies, Teal'c, last year on January 2nd. I wanted to send you an updated picture of the fellow and let you know he is doing wonderfully. He loves playing with our kids and other kids. Our son, who is almost 4, loves to use Teal'c as a pillow. He will lay his head on him and just sit and watch TV or play his game. One day before Christmas, Jaxon was sitting on the floor and Teal'c came over and put his he
ad on Jaxon's belly. Teal'c also plays well with our 9 year old daughter.
The picture I am sending was taken on Christmas day with one of his Christmas presents. Although the ball is now a half ball and I have had to pick up the shredded pieces for the past 2 days, he did enjoy it. He has developed a cute personality. He is so fun to have around.
I do check about once a month the website for the other pups. You have some adorable ones right now.
Thank you for everything.
Mandie H

Karen,
This a note to let you know our baby, ELVIS PRESLEY, is the most loving wolfin ever! As you remember we had another one before Elvis and we could not believe how closely we were able to match our old baby! He is so very loving, and everyone thinks he is pure wolf, including our vet who warned us heavily to be careful so he will not get shot as a wild wolf, although he is fully trained, his look shows his wolf heiritage to the full extent. From his gold eyes, his loving nature, his ability to learn how i need his assistance, he is the best! We are so very happy with Elvis, even our neighbors adore him, he loves the neighborhood kids, his "Nana"(who is almost 80), and even our grandchildren he "yips" to on the phone. As a service dog for me, his true intelligence shows thru. It takes him no time to learn all he needs to help me.in his first year he has learned how to asst. me with walking, and to keep me from falling, this is most important to me since i have ms. He is also learning to "fetch" items to me, as long as its not edible, or NOT supposed to be edible, he tends to thinks remotes make a good snack! Due to their larger brains the wolf hybrids make excellent service dogs, it's so very easy for them to learn all that is required of them to asst their humans.
Elvis is the clown of our family, loves to watch alabama football and nascar, his favorite movie is marley and me, there are a few identical behaviours there! Elvis also loves his music, all of his music and dances for me. the boy thinks he is in movies as well, what an ego! He is a good "brother" to his toy poodle and cat sisters, he watches over them and lets them tell him off, the boy knows the pecking order in our house.
As our baby has become a spoiled brat, he has also become our entertainment. He tends to do flipovers to make me laugh, his favorite trick is to run and slide across the living room carpet! For some reason he thinks this is hilarious. He loves to get his "sisters" after himself, cause he runs much faster than they, he laughs at them or his version thereof!. His devotion has even won over my dr's, some never realized how much animals can assist the handicapped and to what importance we place on them. My husband works long hours and makes it possible for me to be alone during these hours, always on vigil and ready to help his mama.
Elvis has been remarked on about his beauty, temperament, intelligence and his overall great health, as a yr old puppy, he is already 110lbs and full of life!
I am enclosing some pics of him to his 6 mos birthday, as you will be able to see his mask is gorgeous!
Thank you so very much for our Elvis, we adore him as he adores us and ROLL TIDE!!!!!!!!!!
Kay Loc

Hello, my name's Veronica and I purchased a hybrid pup from you just about a year ago, Brendel. He's hands-down the greatest canine I've ever had. Even saved my husbands life. He was having mild chest pain, and just ignored it. Brendel must have sensed it, because he went crazy, crying and barking and nosing him in the chest till he finally went to the hospital to get it checked. Turned out his lung was collapsing. Just wanted to share how pleased I am with his temperament and intelligence!

Hey Karen,
I just wanted to give you some updated pictures of "Jake" . I am just so proud of him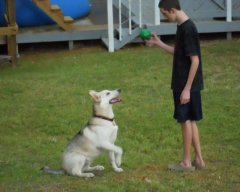 and he is so beautiful. He is really a great dog that is spoiled rotten. He loves his belly rubbed and he loves attention – which he gets 24 hours a day – as he sleeps in the bed with me and follows me everywhere I go. I can go to the bathroom and he lays outside the door. When I cook supper at night he lays in the kitchen with me. He has always sat in the bathroom with me when I take a bath, and the other night he jumped in with me – so I told him as long as he was in the tub he was going to get "washed". lol.
Mary Linda

Sir/Ma'ma
My name is Joe and Ang my 'wife' bought Lakoda from you while I as was in Afgh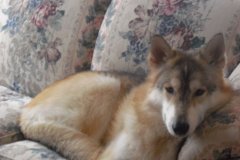 anistan as a present when I came back home. She 'Lakoda' has been a big smile in are life, and I want to thank you. I want to send you a few pic's of her life up to this date. Again, thanks for doing a good job of how you breed these dogs.
Joe

Karen,I thought I would get back to you along time ago , but time flew by and I've been busy. The wolf pup I bought from you last year is doing great !! She is bigger than the male I purchased from you 2 years ago. She is the prettiest dog that I've ever had , she is so loving and you just can't give her enough attention. Her name is Keesha and the male is Kadow.
Thank you for such wonderful pets.
Bob M

Hi Aunt Karen and Uncle Jim,
Mom wanted me to write to you and tell you that I am growing up fast. I went to the vet on Saturday and I weigh 31.6lbs. I am also going to Puppy Kindergarten and Mom says that I am very precocious, but I think I got a shot for that at the vet!!
I have met a cat and lots of old ladies at Grandma Pat's place. They smell funny but they are very nice and give me "mom approved" treats!
I love to go for walks and walk very well on a leash. Mom helps me walk around poles and mailboxes. I sit when there is a car coming and wait for Mom to tell me it is OK to walk again. Dad likes to walk too, but sometimes forgets to help me with poles. Dad and I like to play in the snow. I especially like it when Dad blows the snow out in the yard for me to jump in. Mom always dries me off and warms me up with towels right out of the dryer.
Anyway, mom says to say "thanks for her little angel" and Dad says he swears there are horns coming in under my halo. I sent you my picture, too
Love, Shadow
(Rick and Lea O)

Karen
You were praised by the Vet. Whenever you mention to a Vet that you purchased an animal from a breeder, my past experience is that the Vets try and find something wrong and frown on purchasing animals from breeders. I know the reason is because they see so many unhealthy animals come from breeders and so called "puppy mills".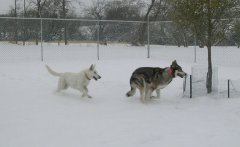 My vet found absolutely nothing wrong with either puppy. They even ran a full fecal exam and no parasites of any kind. No ear-mites. No fleas. They checked out as wonderfully healthy.
I think they were all surprised. I mentioned the diet you recommended and the vitamins and even the probiotics. They said you really know your stuff and what you are doing. They were impressed by the shot records and the fact that you took the time and money to give doses of Stongid-T.
I also informed them that my Poms are now on the new diet you recommended and they were pleased and said that they will be much healthier.
I just want to say Thank You again. I am really enjoying my new babies!!
Please see attached their checkups for the white german shepherd and wolf shepherd puppies.
Leslie

Hello Karen and James!
My name is Katherine A, I purchased a puppy from you on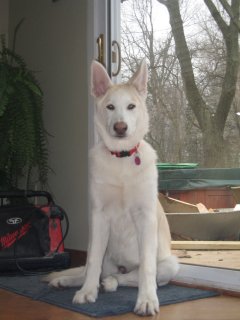 Oct. 12, 2009. Just wanted to write you and say that I LOVE HIM! He is the perfect companion and captures the hearts of everyone. My Mom has dubbed him my official boyfriend-picker as to make sure I have a good one! I have attached a picture (one of the most recent).
Thank you!

Katherine

Hi Karen and Jim,
J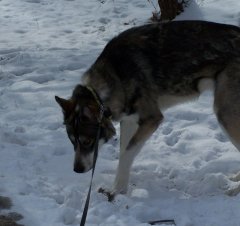 ust thought I'd send you some pictures of Hunter so you can see how he's doing. I just weighed him 5 minutes ago and he's up to 17 lbs at 7 weeks. He went to the vet this past Monday and weighed in at 15.3lbs. She (the vet) said he's real sick and may have to stay there for maybe 10 to 15 years before he gets any better! lol They love him. Every time we go, the entire staff gets down on the floor and plays with him.
Other than getting bigger, he hasn't changed too much however there is more tan setting in on his ears and his eyes are now more grey than blue. He has been pretty much a perfect puppy but he sure does know how to whine with volume :-). He eats good, only gets up maybe twice a night, and potties every time I take him out. Likes to chew on hands and arms, I now look like I've been putting up hay for a week.
Hope all is well with you and I'll keep you up to date.
God Bless,
John

2010
Hi Karen,
I enjoyed talking with you about our Wolfdog "Jake" (6-1/2 months old now).   We really do love him.
When he was about 4 months old he stole my eye glasses off of the end-table in the living room.  For a day I could not find them and did not know what happened to them.  We looked and looked and could not find them.  The next day "Jake" evidently dug them up and brought them back to me.  I found them laying by his food bowl covered in dirt.  He just looked at me like "here they are."
Every night when I take my bath "Jake" has always sat in the bathroom with me since he was 6 weeks old.  When he was about 4 months old he started pushing the shampoo bottles into the tub.  After he pushes the bottles into the tub he sticks his nose in the tub to grab them (like a wolf trying to catch a fish).  If I put the bottles back on the side of the tub, he takes his nose and pushes them back in the tub and will try to grab them again.   If he can't reach them with his nose he will put his two front feet in the tub and prod them until he can get a good grip with his mouth and take them out of the tub.  We play this game every night.  He really seems to enjoy it !!!
Jake loves to play ball.  We will throw a ball and he will always run to get it and bring it back and drop it.  I sat on the back steps and taught him this in about an hour.  He is really very smart.  He knows who throws the ball, because if several people are sitting on the deck he always brings it back to the person who threw it and drops the ball in front of their feet.
He loves to help me dust the house.  When I am trying to dust he always tries to grab the dust rag.  He will move his head back and forth until he gets my rhythm and then grab the dust rag and run.  It is really aggravating, but at the same time it is cute.  He is just playing with me, as he is only 6 months old.  He will then drop the rag and we start all over again.
Jake goes to bed with me every night.  He will jump on the bed, along with my Yorkie.  They both settle in their places with their toys.  But, I have noticed that Jake does not stay there all night.  I always make him a pallet on the floor with a pillow.  He will stay on the bed until he thinks I am asleep and then he will jump down and get on his pallet and lay his head on his pillow.  It does not matter what time I get up in the morning, whether it is 5 am or 11 am, he will be on his pallet until I get up.  He is very loyal.  The funny thing is, I usually go to bed before my husband.  When my husband is in the bed he will not get on the bed, he just goes straight to his pallet.   I guess you can say "he loves me the best."  haha
He is really a handful, but in a good way.  He is very smart and very loveable.   We would not take anything for him.
Mary Linda +

Hello Karen:
Letting you know how pleased I am with Tucker. Easy to train. Extremely friendly with everyone and all dogs. Easy going disposition and very handsome. Growing fast with excellent body tone. Very loving and not too needy. Gets along great with my big shepherd Austin. Comes to work with me everyday and sleeps next to my bed at night and loves going for walks. Little gassy when I feed him liver. Has a bit of a belly to him. Loves to eat that one. Will talk to you about a female wolf dog or white shepherd soon.
Best regards, Tom S.

Hi,  I have not sent you pictures in a while.  Jake is growing like a weed and spoiled rotten.  He is now 9 months old and totally a member of our family.  I have attached some pictures for you.
By the way, he has learned a new trick.  If we are in a room with the door shut, he takes his mouth and turns the doorknob to get out.   VERY SMART DOG !!!
Thanks for such a great pet !!!
Harry & Mary Linda